Travelling, admiring and taking photos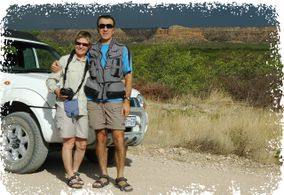 For decades, travelling is more than a hobby for the two of us. Getting to know numerous countries has given us some of the most memorable moments in our lives: the breathtaking view of Angkor Wat in Cambodia, contacts with friendly sherpas in Nepal as well as the endless sand dunes of Namibia are only a few examples of our past travels.
These are experiences that are difficult to describe. Is this maybe the reason why we are taking photographs? We think it is. The Nikon camera is therefore our loyal companion, may it be for trekking in the Himalayas or walking the St. James' Way pilgrimage route.
At home, we then transform the pictures into a multimedia show with accompanying music and running commentaries. We take great pride in doing this work and we love it. When presenting the shows we can share our experiences with the audience and at the same time we once again can relive the magic of these countries.